For various reasons, this reviewer does not generally take to films made for children (the most obvious being, I am not a child, and probably not a child at heart). Generally I find children's films to be boring, having no reason to relate to them at all.  That was before I became an aunt.  Seeing kids films with actual kids makes all the difference.  The appeal of the film then transforms from relying purely on the film itself, to the sum total of the film experience.  Watching Despicable Me 3 with two very animated little boys changes the game.  The humorous rapidly becomes hilarious when a five-year-old re-enacts the entire film as he watches it, and a three-year-old commentates the film in a drawling and squealing babble (in-between climbing the stairs and eating his aunt's ice cream).
Despicable Me 3 is the latest instalment in the Despicable Me/Minions franchise.  The film begins with Felonious Gru (Steve Carell) and his wife Lucy (Kristen Wiig) hot on the tail of the evil super villain Balthazar Bratt (Trey Parker).  Bratt is a former child actor, obsessed with his own character from the 80s show he starred in.  He wants to steal an enormous pink diamond so that he can re-enact an episode of his own show, destroying Hollywood as punishment for losing interest in him when he outgrew his own role.
After failing in their initial efforts to thwart Bratt's dastardly plans, Gru and Lucy are fired from the Anti-Villain League. From here they discover that Gru has a twin brother, the wildly successful, wealthy and accomplished Dru (also Steve Carell).  Dru wants to get Gru back into the villainy game, with one last heist for the sake of family values.  How will Gru get Bratt, appease Dru, and not let down Lucy and their three adopted daughters?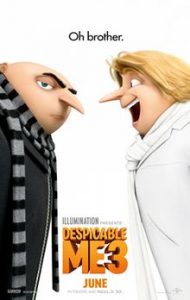 This film is very well pitched to its market; it has all the right jokes and slapstick for kids, but it also keeps in mind the parents in the audience. Much of the music and pop culture references are straight out of the 80s, which is pretty much the era most of the parental audience will remember from their own childhood.  This is probably a very common tactic in a film of this nature, but that doesn't mean it hasn't worked.  There are plenty of laughs for the adults, which are actually pretty classy and don't resort to innuendo.
Highlights for young and old are plenty in Despicable Me 3.  Dance fights between Gru and Bratt are hilarious (cue enthusiastic in-theatre dance fight re-enactments by a moderately co-ordinated five-year-old); there could have been more of them.  Bratt makes excellent use of bubble gum; it's a wonder more villains haven't cottoned on to the myriad use of gum in criminal activities.  Thanks to this film, shoulder pads might make a comeback, especially in the fashion for under tens.
Although this reviewer is unfamiliar with the rest of the franchise, the jealousy that has presented when word got out that this was on the reviewing agenda has been palpable. And this is mostly with the grown-ups.  Clearly this is a very popular series, and if Despicable Me 3 is anything to go by then perhaps it's time for a retrospective viewing of the previous instalments.
Despicable Me 3 is in cinemas from 15th June through Universal Pictures.