Daniel Radcliffe returns to the screen as a Ginsberg so soon after his 2013 turn as Allen Ginsberg in Kill Your Darlings. Although it's spelled a little differently – in Jungle he plays Israeli expat Yossi Ghinsberg. Filmed in the dreamy Queensland rainforest, Jungle is a survival movie set in the deep amazon, based on real events of 1981 that tragically befell Yossi and his three companions.
As a young backpacker traversing Latin America, Yossi easily befriends two other Westerner travelers, headstrong photographer, Kevin (Alex Russell), and meek Marcus (Joel Jackson). In La Paz Yossi encounters the somewhat shady Karl (Thomas Kretschmann) who for a certain price promises to lead the boys to a secluded Amazonian tribe, completely divorced from global civilization. The potential for a good adventure overcomes their reservations and they set off on foot.
The four men combating nature, making their way through the thick undergrowth, and hunting their food takes up a good bulk of the movie. It's also the most engrossing part of the film, with plenty of potential for real harm and for things to go seriously wrong that make it so enjoyable. There's no overt sinister motives but slowly rifts and fractures build compounded by the isolation. Apart from the group dynamic the external threats compound the internal fractures.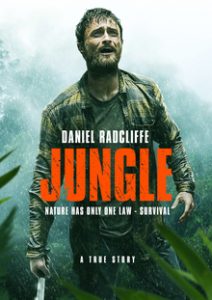 Among those threats the men encounter include the odd jaguar, horrific foot sores, snakes, spiders, scorpions, parasites and monsoonal weather. It is Marcus who suffers the most and a schism soon develops in the group when they come to the conclusion Karl may be somewhat of a charlatan, or at least not the leader they imagined. Marcus and Karl return to the city while Yossi and Kevin continue on, determined to reach their destination by raft. However, that dream is cut short when white water capsizes their make shift raft and the pair are irrecoverably separated with severely diminished supplies.
The tension that had been building dissipates as the focus shifts from the crumbling group dynamic to the hopeless situation Radcliffe finds himself in. This harrowing tale of survival is the backbone of the film and unfortunately is not as strong as it could otherwise have been. What should be an engrossing tale of human drama and survival in harrowing circumstances is somewhat squandered. The survival sequences vary wildly in tone, never letting the viewer settle into the discomfort or ever come to grips with the fact that Yossi's life is really on the line.
Radcliffe's strong performance ties the film together. The enthralling screen aura he has developed puts him in a very exclusive club of actors who are enjoyable to watch in any circumstance and any quality of film. His vast experience for a thespian so relatively young grants him the status of a screen veteran, allowing him the chutzpah to carry a film with such a solitary starring role. His embodiment of desolate misery and descent into derangement compensates for a shaky script.
Director Greg Mclean, known for his breakout film Wolf Creek, served its parent genre with a gratuitousness usually only seen in Tarantino features.  In this feature he has done the opposite, toning down the source material for a relatively tame result. Rather than let the survivors' trial speak for itself, the film gets bogged down in trying to show too much, going on tangents. Radcliffe's frequent hallucinations as he nears the end of his mortality unfortunately slow down the pacing and undermine the dire circumstances.  This might be a little nit picky, but it's hard not to be so when the sliver for a fantastic film frequently shines through. Overall Jungle is more than entertaining enough if not a little tame.
Jungle is in cinemas from 9th November through Umbrella Entertainment.