In the late 90s Wesley Snipe came to Marvel with an idea to adapt Black Panther into a feature film. While that project never came into fruition it did result in him playing the lead as another of Marvel's superheroes in Blade. Two decades later, an explosion of Marvel films no one could have predicted, and we come full circle to the second black Marvel superhero to have his own film, the Black Panther, a.k.a. T'Challa, king of Wakanda.
Chadwick Boseman returns after a cameo in a prior film as the enigmatic king. Wakanda is an interesting place to say the least. Get ready for some reversed political dichotomies that would pique John Safran's interest. It's rare for the villain of a film to be an egalitarian globalist. It's also rare for the good guys to be ultra-nationalistic. Wakanda has been blessed early in its development when an asteroid made of vibranium strikes it. Vibranium allows technology to flourish to unbelievable levels, and is at the heart of each of Black Panther's powers. How does it work? Don't worry about it.
Utilising their superior tech, the nation disguises itself as impoverished. A plethora of interesting questions arise from such a scenario. T'Challa believes strongly in Wakanda's sovereignty, rejecting refugees while withholding technology and aid from African neighbors. That agenda is challenged when T'Challa's secret cousin Erik Kilmonger appears. (With that surname no points for Dahl fans on if he's the bad guy). It transpires that  T'Challa's father, the previous Black Panther, had sent his brother to America on espionage duty. That same brother fathers Erik, turns a little evil and quickly pays with his life. Think The Lion King if Scar went to America and had a son.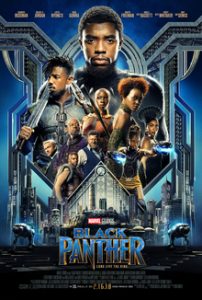 Michael B Jordan plays that son, Erik. And he does so superbly, stealing nearly every scene he's in. The man has charisma in spades, and bad guy or not it's almost hard not to root for him, particularly when you dissect his motives. The man, moved by the plight of his African American community, returns to Wakanda to challenge for his blood right as Black Panther, with goals of using Wakanda's wealth and power to help those minorities and the greater Africa. He does get a bit black Hitlery and overzealous with talk of making other races pay but hey, Che Guevara didn't take Cuba without a few glasses of spilt milk.
At the core of the film are the identities of these two powerful cousins representing two different, but related communities. The film does stray from this many times, with auxillary characters and locations; there's a whole subplot with Andy Serkis in Korea and Martin Sheen is woefully shoehorned in. Further muddying the otherwise interesting character study is the closing half hour good vs. bad battle with artificial and undeserved stakes.
For the fans not as cynical or jaded there is much too enjoy. For a film with 'Black' in the title this is undoubtedly the most colourful Marvel film. Ryan Coogler deserves praise for the visual extravaganza he's created. The tribes of Wakanda are all symbolised with a variety of vibrant colours that gel exquisitely against African waterfalls and safaris. T'Challa frequents an ethereal world with a celestial sky containing vibrant hues of green, red, purple and blue.
The film also shines with its costume design and soundtrack. Recent hottest 100 winner Kendrick Lamar has collaborated to produce a soundtrack of straight fire. It mixes hip hop with deeply primal tribal beats to build and heighten anticipation and tension in fantastic ways.
Black Panther is perhaps the coolest film Marvel has put out, absolutely nailing the setting, music and characters. The universe that has been constructed is an immersive and impressive experience. The film suffers whenever we aren't in Wakanda and various subplots could be completely removed to streamline this. There's also the same Achille's heel all these Marvel films have – the inevitable final battle where it looks like the good guys won't win… but wait! They do win. The fans win, but most importantly the studio wins and we get to look forward to the next one when they team up to do it again.
Black Panther is in cinemas from 15th February through Disney.